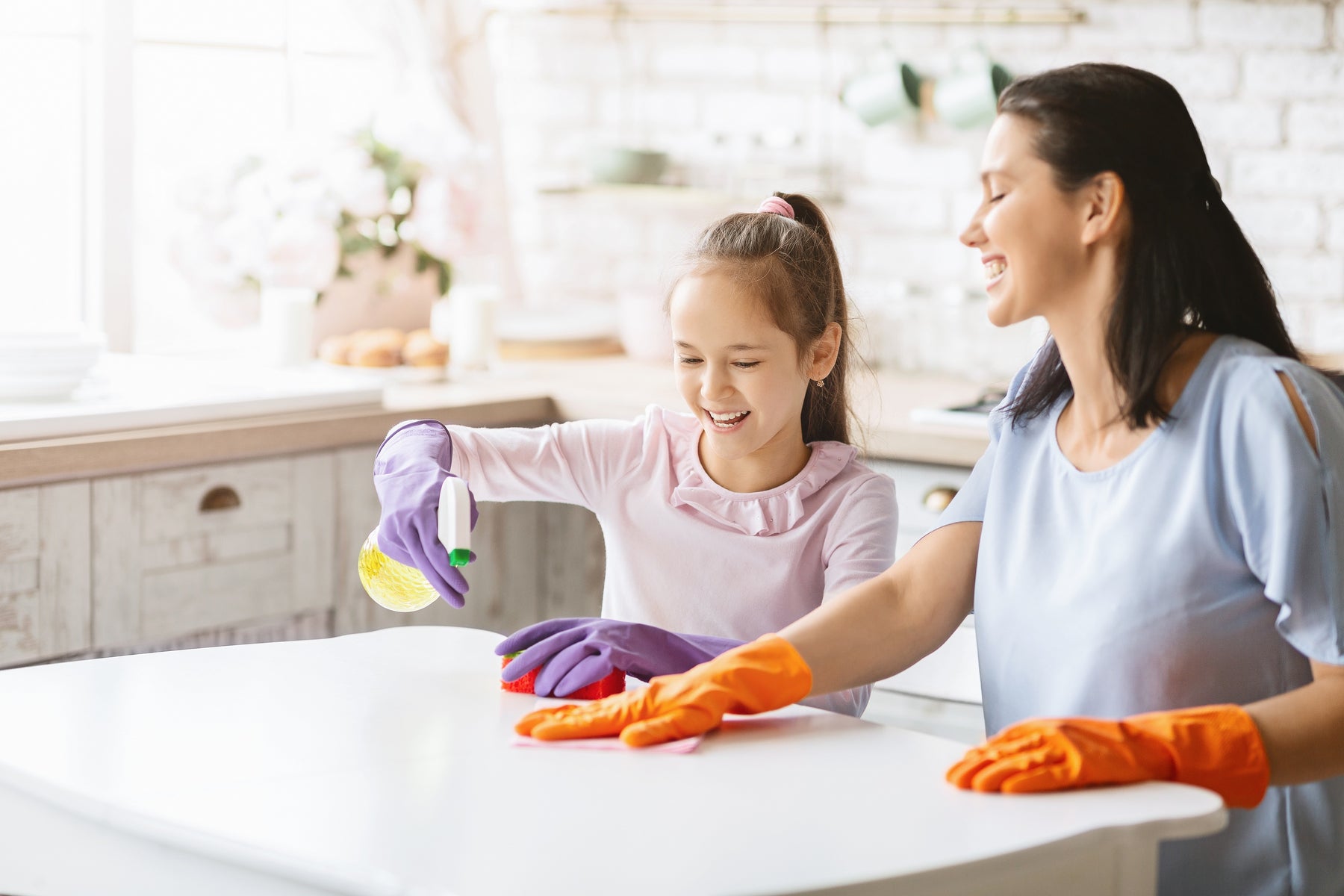 10 Best Kitchen Cleaning and Disinfecting Tips You Must Follow
The kitchen is the heart of every home. It has to be spotless for good health and an optimistic environment. But to be honest, cleaning the kitchen is one of the toughest and least liked part of the chef's job. Here are some of the tips that can make the task less complicated.
Use the Right Product
There are so many surfaces all around the kitchen that take a lot of time and energy to clean if a wrong product is used in the wrong way at the wrong time. There is a lot of grease and oil stains on the kitchen counters, tiles, stoves, ovens and microwaves. Therefore, using a professional degreaser is the best idea to lessen the scrubbing. Using the correct tool like good quality brushes and sponges will speed up the work and reduce the effort. Always remember that "Haste makes Waste". So, for a professional cleaning product to work you need to give it time. For the best results, try to leave the product in the area for at least 10 to 30 minutes as per directions and then one must start scrubbing so that all the hard work has to be done by the product itself.
For the aforementioned, Brooklyn Equipment comes up with
It kills 99.9% of Viruses and Bacteria with 100% removal of tough soap scum and grease assurance. It also has a fresh scent.
Planning
Set the priorities according to the requirements. Some cleaning tasks need to be done once a week while some need a daily check. So, spread jobs throughout the week to prevent clashes and save time. This may give attention to every part of the kitchen without much chaos. You can always hang a checklist on your fridge to be miss out on anything.
Use Multi-Purpose Products
It's not rocket science but just make sure that the job must be done in the right way, in the right order, using the right safety measures and tools. So, to keep cleaning as simple as possible one must reduce using multiple products instead use a Multi-purpose product. There are great products available that can be used as a degreaser as well as a regular cleaner. By using these one can simplify the process of cleaning and make it faster and easier too.
Here are some of the Multipurpose products which are specialized cleaners, disinfectants and deodorants. They remove tough kitchen stains, grease and dirt. Fit for sinks, counters, refrigerators, appliances, fibreglass, floors and tiles.
These are available in bulk at pocket-friendly prices at The Brooklyn Equipment.
Make It the Habit of All
Cleaning the kitchen is a task in itself, only if it is the responsibility of a single person. So, cleaning up after yourself and motivate other people to do the same is the key to keep place perfect. Cleaning spills then and there will prevent them from building up to dry or burn, and reduce the effort to clean it later. For the immediate reflex action, one needs a quick cleaning. For this, a cleaning wipe is the best possible option.
The Brooklyn Equipment brings in
These are general wipes that quickly and effectively clean, shine and disinfect all washable surfaces. These are economical to use and also adds a fresh fragrance to the area.

Do Not Clutter Things All Around
Everyone wants to cook in a clean kitchen, a similar mindset applies to cleaning also. First, you need to get rid of everything that is in the way of cleaning your kitchen. Remove loose dirt and garbage.
Assure that the cooking ware and utensils are out of the way as you start cleaning, probably because then the areas you want to clean are easy to reach and obstacles are out of the way and surely cleaning will be a lot easier and faster.
Give Life to the Dishwasher
With time there can be deposition of hard water in the dishwasher which would disallow it to give a thorough cleaning to the dishes. All the disinfecting and cleaning process go to vain if our plates are not clean because that perhaps makes us eat all the germs. Therefore, cleaning the dishwasher is a must to do a thing once in a blue moon.
There is a simple hack for this. What you can do is pour the whole container of any tang fruity powdered beverage into an empty dishwasher and run a cycle, and in the next wash, the dishes will emerge sparkly clean.
Use a Vacuum Cleaner
Instead of wasting time trying to pick up the crumbs and small dust particles with a cloth, go for the vacuum brush attachment to suck them up at the snap of a button. This technique works wonders on the pantry shelf too. It takes a lot of time to pick every container and then back again. Using a vacuum can make the work faster. It will also enable to clean beyond the reachable places like over the cabinet, between the door channels and behind the range hood etc.
Organise
Always apply FIFO( first-in, first-out) method to the food and pantry items. Arranging things as per their dates assures you aren't wasting food and using it more efficiently. Place the older in front and newer items behind.
Herbs and spices have many antioxidants and anti-inflammatory properties. So, always avail them to add taste and benefits to your food and keep your kitchen spic and span at the time.
Never keep duplicates, combine all the like items into one container, add space and enhance the look.
Replace the Old Sponges
One thing about what many of the people are unaware and that the sponges or scrubber they use to clean their dishes, which can be full of bacteria, mildew and gross especially over long periods. So, make to replace them often. The last thing everyone would want is to be cleaning their dishes with bacteria-filled sponges.
Maintaining the Trash Bins
A thing that is always full of gross as microbes grow at the fastest rate inside this. Now, keeping such a thing is also a reason to keep the place filth free. It is advised to keep the bins covered, but still, if you can't deal with the smell then you can simply sprinkle some baking soda at the bottom before putting it in a new bag.
To be more conscious you can use the disinfecting sprays in and around to kill bacteria and viruses. For this, you can find one easily at The Brooklyn Equipment.
Those who all think that their kitchen is already clean enough may have some additions or changes with the above content. Hopefully, some of you would find the above-mentioned tips and tricks useful.
BONUS TIP
A deep cleaning may require the use of many chemical-based products. From which one should prevent direct contact and inhalation. Here is an advice that while performing any of the cleanings you must always secure their hands with gloves and face with a mask.
You can find these too with The Brooklyn Equipment.