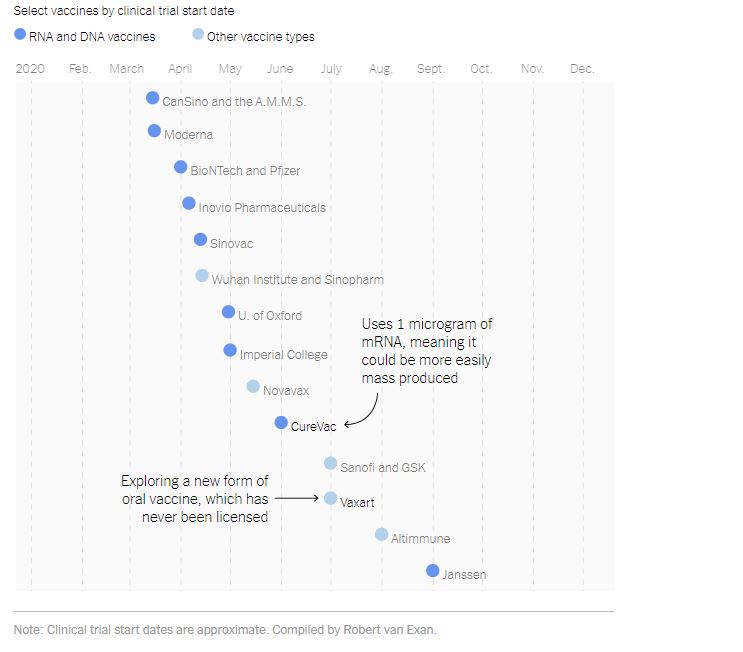 How Long Will a Vaccine Really Take?
How Long Will a Vaccine Really Take?
The grim truth behind this rosy forecast is that a vaccine probably won't arrive any time soon. Clinical trials almost never succeed. We've never released a coronavirus vaccine for humans before. Our record for developing an entirely new vaccine is at least four years — more time than the public or the economy can tolerate social-distancing orders.
There are already at least 254 therapies and 95 vaccines related to Covid-19 being explored.
Companies with vaccine trials underway dozens of vaccines are starting clinical trials. Many use experimental RNA and DNA technology, which provides the body with instructions to produce its own antibodies against the virus.
Despite the unprecedented push for a vaccine, researchers caution that less than 10 percent of drugs that enter clinical trials are ever approved by the Food and Drug Administration.
Less than 10 percent of drug trials are ultimately approved
Probability of success at each phase of research
Fortunately, we already have a head start on the first phase of vaccine development: research. The outbreaks of SARS and MERS, which are also caused by coronaviruses, spurred lots of research. SARS and SARS-CoV-2, the virus that causes Covid-19, are roughly 80 percent identical, and both use so-called spike proteins to grab onto a specific receptor found on cells in human lungs. This helps explain how scientists developed a test for Covid-19 so quickly.
The potential Covid-19 vaccines now in the pipeline might be more likely to fail because of the swift march through the research phase, said Robert van Exan, a cell biologist who has worked in the vaccine industry for decades. He predicts we won't see a vaccine approved until at least 2021 or 2022, and even then, "this is very optimistic and of relatively low probability."
And yet, he said, this kind of fast-tracking is "worth the try — maybe we will get lucky."
While some steps in the vaccine timeline can be fast-tracked or skipped entirely, approvals aren't one of them. There are horror stories from the past where vaccines were not properly tested. In the 1950s, for example, a poorly produced batch of a polio vaccine was approved in a few hours. It contained a version of the virus that wasn't quite dead, so patients who got it actually contracted polio. Several children died.
Covid-19 lives in the shadow of the most vexing virus we've ever faced: H.I.V. After nearly 40 years of work, here is what we have to show for our vaccine efforts: a few Phase 3 clinical trials, one of which actually made the disease worse, and another with a success rate of just 30 percent.
Researchers say they don't expect a successful H.I.V. vaccine until 2030 or later, putting the timeline at around 50 years.

That's unlikely to be the case for Covid-19, because, as opposed to H.I.V., it doesn't appear to mutate significantly and exists within a family of familiar respiratory viruses. Even still, any delay will be difficult to bear.
"If we do it the conventional way, there's no way we're going to be reaching that timeline of 18 months," said Akiko Iwasaki, a professor of immunobiology at Yale University School of Medicine and an investigator at the Howard Hughes Medical Institute.
That's been the case for a few H.I.V. drugs and vaccines for dengue fever, because of a process called vaccine-induced enhancement, in which the body reacts unexpectedly and makes the disease more dangerous.
So researchers might produce a viable vaccine in just 12 to 18 months, but that doesn't mean you're going to get it. Millions of people could be in line before you. And that's only if the United States finds a vaccine first. If another country, like China, beats us to it, we could wait even longer while it doses its citizens first.
Therapeutic drugs, rather than vaccines, might likewise change the fight against Covid-19.
Source: https://www.nytimes.com/interactive/2020/04/30/opinion/coronavirus-covid-vaccine.html