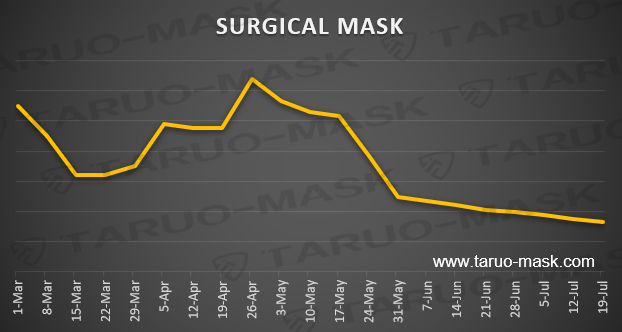 The price of PPE over time
The Covid pandemic has disrupted supply chains for PPE and other items. In the same time the demand of items going from wipes to face mask via disinfecting sprays has also dramatically and unexpectedly changed. However we are now seeing a renormalization of the pricing and supply chains.
As recently as March or April 2020 the costs of surgical face masks was as high as $0.70 DDP coming from China. People were air lifting face masks to fulfill the demand. However in the meantime container and containers of face masks, coming by sea, at a much lower price, have flooded the market. As a result we see the price of surgical face masks being back to a reasonable price, very comparable to where it was before the pandemic.
Fig 1. Price of face masks over time, as reported by Taruo.
The price of a PPE item is of course effected by offer and demand but also by transportation costs. We are also happy to report that the cost of air freight has also come down significantly recently, and is now reasonably back to pre-pandemic levels.
Fig 2. Cost of air freight over time as reported by Taruo
Other items like disposable gowns also had a price peak. However even more specialized items like shoe covers (and even hair covers) are still in a situation where offer and demand don't match, yet.
Fig 3. Cost of disposable gowns over time as reported by Taruo
Fig 4. Cost of disposable shoe covers over time as reported by Taruo.
While no data has been published about PPE wipes or disinfecting sprays we expect a similar market movement for these items.
On the other side we see a price increase in gloves and especially nitrile gloves. Unfortunately these items are too expensive to bring by plane. And unlike for other items it takes a lot of time and capital to increase manufacturing capacity for nitrile gloves.
We continue to work with all our supply chains in India, China, Malaysia, Thailand, Israel, Europe and of course North America to offer competitive pricing and items in stock in all possible items.
Please feel free to contact us for any questions or if you are looking for items we don't have in stock at this time.