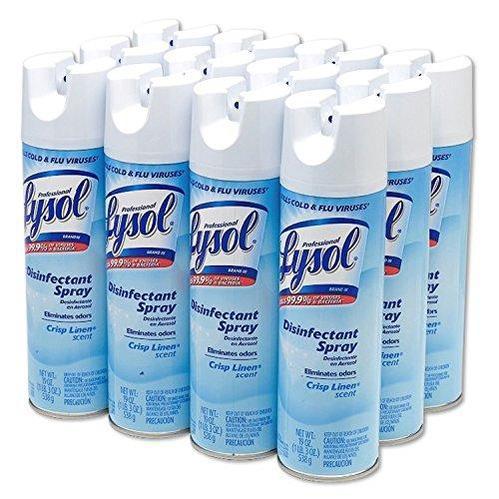 Why are your Lysol and Clorox products so expensive?
Hello,
There is a long story. The story starts when we asked our customers their advice and what to do. Should we be listing these exorbitantly priced products or not?
Here is how it started, with an email Brooklyn Textiles and Equipment sent to all our customers:
Hi,

My name is George and I am the founder of Brooklyn Textiles and Equipment. As you can see I can't sleep tonight because I have a question:
"Should we list very expensive Lysol or Clorox products or not?"
I think the best people to take this decision is you, our customers. So we made a survey.

My promise:

If the survey votes NO, these products are going away, forever.

If the survey votes YES, we continue to try to improve on prices and do the best we can to keep these products available at the best possible price.

Help me decide, please.

The arguments

The defense
Lysol and Clorox products are impossible to find right now.
They kill 99.9% of viruses (they claim).
Wholesellers provide them at 3x the price before the crisis.
But we can get them which is not the case for everybody.
People need, seek, and buy them. every day.
They are among our best seller products.
People who are immuno-compromised have begged us to find some for them and we did.
Nobody is obligated to buy any.
And YES, they are horribly expensive, honestly.
But we have them for sale, with no maximums, no minimums, with free shipping, and we ship them within 1 business day.
People get exactly what they expect
Selling these products employs full time 3-4 people in Brooklyn, NY

The public prosecutor
These products are horribly expensive.
These products are our lowest margin items, by far. We buy them for ridiculous amounts. ( Our net margins are around 5-10% at best.)
We get treated of price gougers multiple times a day.
Somebody in the chat today said we are "despicable" for selling them at those prices
We are trying to help, not to hurt. Are we really helping?
It looks like we are trying to get rich when in fact we barely make ends meet on these products.
These products at these prices might erode our image and customer trust.
What to do?
To list or not to list?
I need your advice, please.

So we created a survey, please tell us what you want us to do:
What goes in a product price on Brooklyn Textiles and Equipment?
The purchase price, of course
Transportation (get product from seller to our warehouse)
The storage cost (receiving team salary, warehouse rent, etc.)
The packing costs ( cardboard box, filler, tape, etc)
The marketing costs ( right now PPE marketing is extremely difficult)
The shipping costs (UPS, USPS...)
The picking costs (people who pick them from the shelves and put them in the box to ship out)
The financing of the purchase capital.
The overhead ( accounting, insurance, taxes etc.)
Returns (defective products are reimbursed 100%, )
Products lost in shipping / never arrived (we replace those at our full expense)
Fraud (fraudulent credit card transactions, etc)
Customer support (we offer chat, phone and email support from Brooklyn NY)"
Our customers voted in the survey and here are the survey results as of June 6th:
So what did we decide?
So here is what we decided to do:
1. We decided to keep the products on the website for now.
2. We are going to provide a discount code. This code will give anybody who needs help a 10% off (we will be losing a little bit of money on each order using this code) on all Lysol and Clorox products. Please, if you have to have these products and can afford to pay for them go ahead. If you still want these products but can't afford to pay for them please use code "help". We will be selling them at a slight loss to you. We hope this helps.
And here are a few (anonymized) comments we received in the "other" category of our survey by email directly : 
"Hi George,

My mom Sheryl is immune compromised and I can't thank you enough for making lysol spray and your handwipes available for purchase. She lives in PA and I've had the products shipped to her there. It is in short supply. Nonexistant really.

I answered the one question survey for her because she's not tech saavy. She lives one state over, in PA. It was a YES.

My thought: the clorox spray with bleach could probably go because it's something that can be made at home with regular bleach. 

Also I imagine you guys are competing against yourselves selling lysol wipes versus your own brand.

Why not sell lysol wipes to drive traffic to your site. When people arrive point out on the site you offer your own brand as a cheaper alternative. You can reduce your inventory on the lysol wipes and it will say "sold out" but people may not care if they see your wipes are available. 

But lysol disinfectant spray is gold- no one has had it for months. I bought a can for myself, one for my elderly dad and two for my disabled mom all on your site. If you are buying it off ebay for resale that might not make sense. I would report the price gouging at the wholesale level to the state attorney general's office. If you can sell more cans individually it might make more sense but I'm not sure. 

Also include a brief disclaimer on your site that your team apologizes for the high prices but you are reselling at a very low margin because you want to do the right thing. I think you'll get plenty of people who will understand.

Sorry for the long email. I'm very grateful you had the lysol disinfectant spray and we bought your handwipes and regular disinfecting wipes. Mom says she's using it all. And I've told dozens of people about your site already.

Open up sale of lysol disinfectant spray to the world, not just select customers. Your business will probably explode. Amazon, Walmart and Target are consistently, completely out. 

Just my thoughts."
"I do think you should list these items but I think it might be helpful if you included in the item description a parenthetical note that you recognize the prices are high but you have no choice other than high prices or no availability."
"I recently saw your survey regarding Lysol and Clorox products. I don't know why they have raised the prices so high. When we can occasionally find these wipes at target stores they are the " normal" price. I'm not very good at watching or remembering what I paid for an item but I believe its less than what you are showing on you site.

I recently ordered a large bucket of your Brooklyn textile wipes. I have not received them yet. They disinfect right? So what's the difference between them. Other than the fact that I can actually get yours. I can use yours on kitchen counter tops right? They are considered food safe. Your competitors aren't.

One last question. Your wipes disinfect, what does it kill, germs? Bacteria? Virus? If the answer to this question is yes. My answer to your survey is no. Don't sell your competitors products. Sounds like yours are just as good."
"George, 
Here is my perspective on the question as to whether you should sell outlandishly priced Lysol and Clorox products: Doing so will hurt your reputation more than it will help. Not selling something won't hurt you, especially financially given the small margins. Social media is an amplifier, and it takes a handful of people with a large follower audience looking for the spotlight to throw your firm under the bus and claim your are the problem. You can't undo that damage. Simply not selling these items, for a short amount of time, makes you a prudent business person, who accepts that you can't service the whole of the world. These products will be on store shelves again soon, and then all that will be left is your damaged reputation as a price gouger and opportunist. "
"Could you list them but provide some of the information that you provided in this survey on the page so that customers can see that the high price is not your fault? You could even link to some of your similar, less expensive, non-Lysol products on the page to help people realize there are alternatives. I know some people still won't read the information but you could make it prominent. I thought it was worth suggesting in case you hadn't considered it! "
"Price gouging, even if your customers vote for you to participate in the gouging, is illegal for any item or service needed to limit the spread of Covid19. 

If I knew you were considering charging $300 for 12 Lysols, I definitely would have not ordered the masks that I just ordered yesterday from you."
"Customers might need them but if you're getting backlash wait until the costs come back down, not worth the drama, in my opinion. Also a business owner."
"I know it's ridiculous to have to price the items at these prices. I can understand your dilemma. Maybe a separate section on your website marked "Terrible Pricing" or something similar, for those who have to have it and can afford it. It's good to know there are people like you out there running a conscientious business. You will find my answer the same on all your questions. This is my blanket answer for you. Keep up the good work."
"I think you should list them but explain why the price is so high. "
"Only if your customers ask for them by name. I have found d the off brands are just as good."
"Yes, but please include options for single canisters of Lysol wipes even if expensive, because $126 for a case of 6 is SUPER expensive "
"Yes with a disclaimer. Also, Clorox w/Bleach spray can be found at Dollar General and Target at "normal" prices. Found Lysol spray at Dollar General too, but intermittently."
"I think you should sell/list them with a notation on the product page explaining that (a) your purchase price is super high and your margins are low but that you are providing a product people want only because they want that branded product and that you understand the price is extraordinarily high and (b) offer an alternative if possible of the same product without lysol/clorox branding."
"Not sure but they are hard to find products. They are necessary these days. It may help direct traffic to your other products. Maybe check to see if it actually increases sales for your other products. Does the customer who buys Lysol also buy higher margin products? Keeping 3 to 4 people employed is an amazing accomplishment. Seems like the pros are really good but will they help your business increase profitability in both short and long term? Wish you luck. The fact you even reached out to your customers is admirable, makes me want to commit on being a return costumer. "
"Thank you so much for your letter. I didn't realize that Brooklyn Textiles sold these products! Thank You!
I personally do not have any problem with you selling them at those prices. I have Chronic Lymphatic Leukemia and I haven't seen those items being sold anywhere. I will place an order. 
A question. 
I did order the face masks with the elastic. While I do like the design the fabric is a little irritating to my sensitive skin. 
I have washed them twice and added fabric softener. Any other suggestions?
Thanks "